We ♥︎ honesty! Beat EMF may earn a commission through links on this page at no additional cost to you.
If you're wanting to learn about EMF protection, the first thing you need to know is this:
You don't have to actually feel effects to be ill affected by electromagnetic radiation.
Side note: Did you know? I have a FREE mini-course that can help you lower EMF exposure by 75% in just 7 days. Check it out here!
​But if you're sensitive to it, you already know the importance of shielding devices like EMF protection pendants, and maybe you're just shopping around for the best one.
And if you don't "feel" its effects, you still need to be proactive about reducing your EMF exposure because it's interacting with your body whether you feel it or not. 
How you go about doing so looks a little different from person to person.
With that said, let's dig in to this week's edition on protective pendants.
Do EMF Protection Necklaces Work?
This will be one of those times where I'll say "Yes, but…"
They do work, but fraud is rampant in this category, so you have to do your research and know what you're buying.
To get you started, we'll discuss the main things you should look for, what materials to consider, and then I'll share a few of my favorites.
So first, let's talk about the effectiveness of EMF pendants.
They don't block radiation 100%, so if you're looking for 1-stop, full-fledged protection, jewelry won't be it.
The necklaces I recommend at the end of this article, however, offer some shielding qualities that can be useful in an overall approach.
My thoughts are:
If I'm going to wear a necklace, why not wear one that pulls double duty that looks nice and reduces the effects of EMF on my body?
Now to answer the question of if they work, we need to answer the question of how they work.
For that, we need to look at their materials and construction. Most EMF protection jewelry is made with materials such as shungite, organite, and black tourmaline or materials that produce frequencies or fields like the Schumann resonance (I promise it's not hokey – NASA uses it!)
Each material has a different way of working and different attenuation and/or absorption ability, so let's look at few of the most popular anti-radiation materials used in jewelry today.
Common Materials Used
Shungite
Shungite is a lustrous, carbon-based black mineral that is native to the northwest region of Russia. There are two theories as to how the mineral came to be:
One theory is that shungite is the result of decomposed sea microbes.

Another theory is that shungite formed from a falling meteorite that landed in the area.
No matter which theory is true, the facts are that shungite is a powerful mineral and can be effectively used to protect from harmful electric and magnetic fields(EMF). Its protective and healing properties are attributed to its high carbon content.
According to the National Institute of Environmental Health Sciences, EMFs are invisible energy fields also referred to as radiation. These fields are emitted by sources such as:
MRI machines

power lines

microwaves

wireless devices

computers
On the other hand, ionizing radiation has higher levels of EMFs and are generally emitted from the sun, gamma rays and X-rays.
Shungite works by absorbing and thus blocking EMFs emitted from the above devices.
You may be familiar with materials like diamond, charcoal, coal and soot. Each of the these consists of large quantities of carbon.
You may have also heard about charcoal's absorption properties. For instance, activated charcoal can absorb impurities from the digestive system. It's used to detox, and emergency rooms all across the country use it to effectively treat cases of drug overdose and poisoning.
Shungite works in a similar way with electromagnetic toxins.
For instance, one 2017 study assessed the effects of shungite on mice. Mice that had incurred ultraviolet-B radiation induced skin damaged were treated with topical shungite.
The results?
The shungite-treated areas had less wrinkles, less roughness and minimized pigmentation. The study's overall conclusion was that shungite has proven protective, anti-inflammatory and antioxidant effects.
Unfortunately, not all shungite is created equal.
Various categories exist, each containing a certain percentage of carbon, which can range from 0 to 100%. For the best benefit, look for pure shungite that has a 90 to 100% carbon composition.
Black Tourmaline
Black tourmaline is a precious stone that's abundant throughout the world. Its uses date back to the Medieval time period. The stone gained popularity when George Kunz, a mineralogist, sold the stone to Tiffany and Co.
Tourmaline's EMF protection effects are due to its ability to generate electricity from heat and friction. It's also protective because its makeup can withstand high frequencies.
Although black tourmaline isn't as effective of an absorber of EMF like shungite, it does have a balancing effect on the body that helps shield it from radiation.
When pressure such as rubbing is applied to black tourmaline, it can emit negative ions. Studies have shown that negative ions have a few positive effects on the body. These effects include, but are not limited to enhanced mood and increased immunity.
While the EMFs generated by our household devices contain positive ions, black tourmaline emits negative ones. Even though it sounds opposite, it's negative ions are good, and positive ions are bad.
The negative ions that are generated are able to inhibit the effects of the positive ions.
So recap so far:
shungite absorbs

black tourmaline counteracts
Schumann Resonance 
The Schumann resonance, named after a professor at the University of Munich, refers to the earth's atmospheric frequency.
NASA compares the resonance to a heartbeat. Similar to a heartbeat, the earth produces about 50 lightning flashes each second. Although these waves are undetectable by the human eye, they definitely have an impact on us.
While we tend to resonate with the frequency of the earth, more and more devices are known to interfere with this frequency – EMF being one of them.
Something as small as a smartphone emitting EMF can affect our frequency, which coincides with the earth's, causing unhealthy side effects.
A Schumann Resonance Generator mimics the earth's frequency and reminds our bodies of the earth's natural frequency.
I'll be completely honest with you:
When I first started learning about all this, I thought it sounded a little too far out in left field. I'm a very skeptical and hesitant person who researchers the mess out of things before I get on board.
But when it comes to Schumann Resonance Generators, they are used by NASA to help astronauts in outer space while they are away from earth's natural frequency.
Astronauts who are exposed to Schumann resonance are able to spend more time in space without harm.
So while shungite absorbs the bad stuff and black tourmaline counteracts the bad stuff, a Schumann wave generator enhances the body's own frequency to counteract the dangerous frequencies emitted by devices like cell phones and routers.  
Best EMF Blocking Pendants Reviewed
The current level of EMFs in our environment might seem alarming. Guarding yourself from their potential harmful effects is one of the smartest moves you can make in this digital age.
Below are some of my favorite shielded necklaces on the market.
PureGoods Black Tourmaline Necklace
This necklace is made from pure black tourmaline and has a stylish design depicting a sun on the front. Users report this pendant has an uplifting and energizing effect. It is also said to improve circulation and ground the body.
Stylish unisex design

Multiple positive effects on the body

Lightweight

Contains traces of shungite as well

Produces 1500 to 2000 negative ions

No plastics used

Affordable
It's not 100% pure black tourmaline (has shungite as well)

Chain components not disclosed
This 100% shieldite pendant is oval-shaped, about one inch and a half in length and a little over one inch wide. Shieldite is a rare mineral that is composed of fullerene carbon molecules, making it similar to shungite.
The mineral is infused with Biometric Frequency Infusion Technology before it is removed from the earth. Thus, it is able to transmute EMFs and emit negative ions, making it also similar to black tourmaline.
It's kinda like the best of both worlds.
100% pure

Has black tourmaline and shungite properties

Works 24 hours a day

Infused with BFIT

Attractive appearance

Affordable
Must ground for 15 minutes daily

Is a softer, more fragile stone
This may just look like a normal silver necklace at first sight. However, it's infused with EarthCalm EMF protection technology that has been researched and proven effective against EMFs.
The 100% waterproof necklace produces positive physiological effects as the result of negative ion emission. Tests have shown improved heart rate and less physical and mental distress.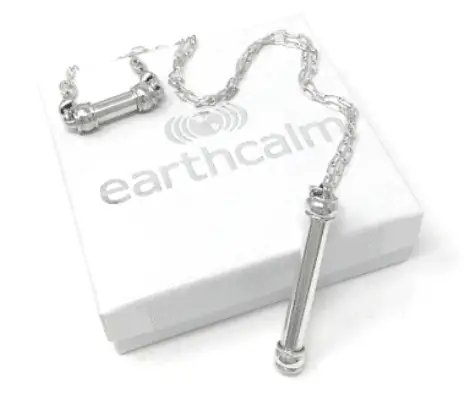 Stylish design

Composed of .999 fine silver

Researched and scientifically proven effective

Waterproof

90-day money back guarantee

One-year warranty

Available in four sizes
On the more expensive end
eLink EMF Neutralizer Pendant
I personally haven't tested this necklace, but eLink is a reputable brand so I have no reason to think this isn't a quality product.
It falls in the category of "neutralizers," which is kinda grey territory for now, at least until further research is conducted. 
Still, it's hard to ignore the glowing testimonials.
eLink EMF Neutralizer – Pendant Protection Device
USERS REPORT: Increased energy and stamina | Reduced pain & headaches.

Enhanced mental performance & productivity | Improved mood & overall well-being.

Provides an overall field diameter of 6-ft, with a stronger 3-ft inner field.

Dimensions: 1-1/2 L x 1 W | Natural Hemp Cording | Instructions Included | Item is exactly as pictured.

100% Money Back Guarantee | Contact Seller HGID directly for technical & return issues.
Prices pulled from the Amazon Product Advertising API on:
Product prices and availability are accurate as of the date/time indicated and are subject to change. Any price and availability information displayed on [relevant Amazon Site(s), as applicable] at the time of purchase will apply to the purchase of this product.
This necklace is a small comfortable size measuring 1 inch by 2 inches.
It's waterproof, which is nice, but it's on a hemp cord, which isn't so water friendly. So if you want to wear it showering or swimming, swap out the cord it comes with for a different, more water-resistant chain. 
It's the actual pendant that's beneficial, so changing the chain will not interfere with its function at all. 
It claims to provide a neutralizing range of 6 feet, but it's strongest protection is at 3 feet. 
Chi-O-Phi Harmonizing Necklace
This necklace works via the Schumann resonance, which as previously discussed, is the natural frequency of the earth. 
Inside this unique necklace is a frequency generator that emits a range of frequencies – all of which are found in nature, including of course the Schumman frequency.
EMF Protection Pendant by Chi-O-Phi® – Harmonize Your Being and Protect Yourself from unsettling EMF with This Revolution of Active Jewelry (Gold)
EMF PROTECTION - Protect against electro pollution from cell phones and devices emitting electromagnetic frequencies (EMF) and electromagnetic radiation (EMR).

EMF BLOCKER - Chi-O Phi shows beneficial effects, supporting the body to balance itself and enter a more natural state, almost like the one have been exposed to an EMF free environment.

SCHUMANN RESONANCE GENERATOR- The circuitry within the Chi-O is composed of a frequency generator that produces a range of different frequencies found in the natural world, including this Schumann Resonance.

INTERCHANGEABLE HOLOGRAM CARD - This allows the wearer to customize the support that is being emanated from the Chi-O Phi. Hologram card #15 Chakra Balance and #3 Eliminate Negative Energies are included with your purchase

ACTIVE SCALAR AMPLIFIER- Our Chi Organizer products all use an active scalar amplifier circuit that enhances your Chi energy, even if you are at your lowest, giving you the boost when you need it most.
Prices pulled from the Amazon Product Advertising API on:
Product prices and availability are accurate as of the date/time indicated and are subject to change. Any price and availability information displayed on [relevant Amazon Site(s), as applicable] at the time of purchase will apply to the purchase of this product.
It's a bit pricey, but it goes a step further than something like shungite or black tourmaline that simply helps alleviate electromagnetic stress to actually generating a frequency to counteract it.
EMF Neutralizing Frequency Pendant 
This unique necklace was created by Dr. Valerie Nelson and is programmed with over 30 frequencies believed to neutralize the negative impact of EMF on your body. 
EMF Protection Pendant Necklace – Anti-Radiation – Programmed with 30+ Homeopathic Frequencies – Multiple Styles – EMF Shield Necklace Jewelry by Dr. Valerie Nelson
✔️SUPREME PROTECTION – EMF Pendants Are Programmed With 30+ Homeopathic Frequencies Including Shungite & Crystals Proven To Neutralize EMF Radiation – Vital To Wear All Day Long for Supreme EMF Protection

✔️USA MADE - Each EMF Radiation Neutralizing Pendant is Hand Programmed by Dr. Valerie Nelsons Team with Care

✔️PROTECT LOVED ONES - More Research Proves the Long Term Negative Effects EMFs can have on People, Including Weaker Immune Systems, Fertility Issues, Headaches, Sleep Disturbances, Ear Noises, Joint & Muscle Pain

✔️FASHIONABLE STYLE & PROTECTION - Strengthen your Bodys Energetic Field to Protect yourself Against EMF Waves and Harmful Electronics Surrounding us Constantly
Prices pulled from the Amazon Product Advertising API on:
Product prices and availability are accurate as of the date/time indicated and are subject to change. Any price and availability information displayed on [relevant Amazon Site(s), as applicable] at the time of purchase will apply to the purchase of this product.
I'd like to see some double-blind studies done on homeopathic products like this, but I've used with homeopathic aids with good results throughout my journey with Lyme disease, so I definitely don't disregard it. 
I like that they are hand-programmed by her and made in the USA. 
Orgone Anti Radiation Shield
I like this one as a budget-friendly option, but I'd get it knowing it's not a "one and done" solution. But of course, no one piece of jewelry is going to give you all the protection you need. 
Anti Radiation Shield EMF Protection Negative Ion Balance Energy Necklace Orgone Pendant
NATURAL MATERIALS : Lava and Tourmaline,empowering pendant.Strengthen the bodys biofield, increase physical vitality throughout your day. Enhances the bodys natural defenses against the damaging radiation coming from all EMF devices !A perfect gift for yourself or your friends

ANTI RADIATION SHIELD: Radiation Protector against electron pollution from cell phones and other Electronic devices, WiFi routers and other household appliances.it is a highly advance break-through in technology which can successfully reduce the harmful effects of radiation

SCALAR ENERGY PENDENT:Energy balance necklace takes harmful damaging orgone energy from Electronic- magnetic frequencies and converts it to positive organized orgone energy. Physical health ,With every positive thought, youll increase your positive energy and align with its protective power

NEGATIVE ION NECKLACE: Wear or carry in a purse or pocket.The anti radiation pendant brings a decrease in your overall level of stress,Orgone Energy can aid in restoring balance to your body and environment by harmonizing the energy in your surroundings

EMF PROTECTION:Protects from EMF Radiation,effectively cleans stagnant and negative energy, promotes better sleep ,just live your life with more energy!
Prices pulled from the Amazon Product Advertising API on:
Product prices and availability are accurate as of the date/time indicated and are subject to change. Any price and availability information displayed on [relevant Amazon Site(s), as applicable] at the time of purchase will apply to the purchase of this product.
Elimination, distance, and duration are always priority.
With that said, I like that this is a negative ion generator, crafted of Japanese volcanic lava and black tourmaline. 
The scale of negative ions is between 2000 – 3000, which is pretty average for this type of jewelry.
Frequently Asked Questions
1. How often should I wear it?
Anytime while you are awake, but especially when working around high EMF emission devices like routers, bluetooth, and cell phones.
2. What is shieldite made of?
A rare mineral, shieldite is a combination of silicate and crystalline carbon but with a unique molecular structure more conducive to shielding than regular carbon-based minerals.
3. Are there any side effects of wearing an EMF necklace?
For most people, no. Those who are extremely sensitive to EMFs may experience minor reactions as their bodies adjust to the sudden removal of harmful electromagnetic radiation.
4. How do I know if I need one?
Everyone needs protection, but especially those who live and/or work in tech & Wi-Fi heavy environments.
5. Are EMF pendants heavy?
If you don't normally wear necklaces, the feeling of having something in that area may take some getting use to, but they're not any heavier than average necklaces.
6. Are EMF protection necklaces a scam?
Only if you don't do your homework first 🙂  For example, there are some people out there trying to sell stone pendants that are only 25% shungite while claiming they're 100% pure. A reputable company will have ample documentation and even third-party testing.
7. What type of crystal beads help with EMF?
I personally don't feel like there has been enough research to be able to recommend most crystals, but here are a few that have some anecdotal evidence of at least minimizing EMF's impact:
Amazonite

Quartz

Pyrite

Fulgurite

Orgonite
I do, however, like black tourmaline as discussed previously. 
Here's a video that measures EMF emitting from a desktop computer before and after placing a chunk of tourmaline in front of it:
Chief Editor & Researcher at Beat EMF. I'm in charge of testing all the products and sorting through the duds to deliver effective EMF solutions for your family. Learn more about me here.